I've done it! I've completed my first skirt for The Hundred Skirts Project, and here it is. I've named it "Animal Farm."
Before I say anything else, I want to thank Charity of
Vintage Threads
. She's made participating in the project so easy, that it's almost shamefule
not
to participate. Just in case you haven't heard, The Hundreds Skirts Project benefits
The Shadow of His Wings Orphanage
in Guatemala.
I'm especially proud of this little skirt as I drafted the pattern myself...I know, it's just an A-line skirt pattern, but for a spatially challenged person such as...
me
...it represents a fair accomplishment. The fabric came from my tiny stash, where it had been patiently waiting to be used for ten or so years. It's a Noah's ark print that had a coordinating border print. I used the border print for a dress for my granddaughter at Christmas, but I had some small pieces of this print available to use. When the fabric was originally purchased, I had a dress/pinafore outfit in mind. I struggled with the dress and the outfit was never completed, but I had some fairly large scraps of this print and, thus, Animal Farm was born.
I used my narrow hem foot to hem the 60+ inches of ruffle - a first for me - and I'm pretty happy with the results. I can remember when my older girls were young, doing this by hand and the narrow hem foot is quite a convenience. The shape of the little pocket was lifted from the hearts in the print.
Narrow Hem Detail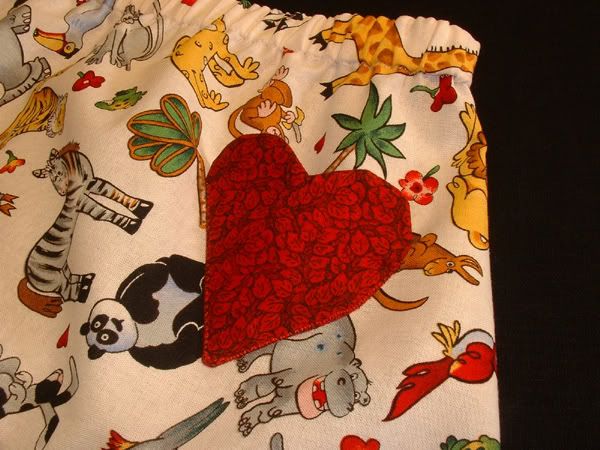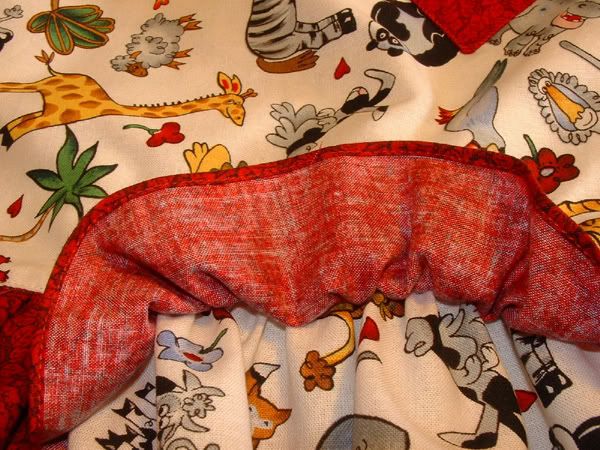 Pocket Detail
One down and six to go!